Fort Worth, Texas, July 28-30

We are returning to the Dallas / Fort Worth region for several reasons:
- This area is centrally located and has easy airport access from all parts of the US
- Texas still has the greatest number of 90th Division Association members
- Unbeliveably, the hotel is giving us the SAME prices we enjoyed since 2012!
- The Association enjoys a tax exempt status in the state of Texas


Reunion Registration

Advanced Registrtation for the 2017 90th Division Association Reunion is encouraged.
Hotel Reservation Information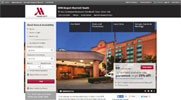 DFW Airport Marriott south
4151 Centerport Boulevard
Fort Worth, Texas 76155
817-358-1700
ROOM RATES: 1–4: $89 + TAX [15%]
FREE HOTEL SHUTTLE TO AND FROM THE DFW AIRPORT
FREE PARKING FOR THOSE DRIVING
The Hotel has a beautiful entry foyer where we will have our Hospitality Room for the duration of the Reunion. We hope to have a military vehicle in the hotel parking lot or lobby for people to explore, have pictures taken, ect. The staff is absolutley wonderful, friendly and eager to meet our needs and requets. There will be a hotel shuttle that you can make arrangements with for transportation to specified areas, and there is also a train nearby that will take you to places in the area.