Multiple Updates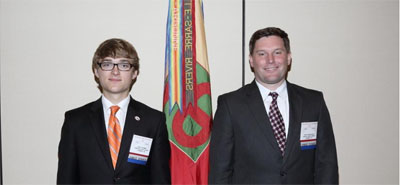 At the 98th Reunion last July, we were introduced to a very educational program.  It is part of the National History Day and Sacrifice for Freedom Institute sponsored by the Albert H. Small Foundation.  It is a program which is competitive throughout the nation and involves a student and a teacher (usually a history teacher).  Those students selected then research a soldier, airman, or seaman who is interned in the Cemetery in Normandy.  Usually this man comes from near by the area which the student lives, thus making the research easier and more interesting.  The highlight of program is a visit to Normandy in June, where by the students and teachers visit the Beaches, other sites of interest, and visit the grave of "their soldier".  The students document their research though websites, which are unique to each student. 
 Here is website of the program for greater information;   https://nhd.org/normandy-sacrifice-freedom     The program began in 2011.
At the reunion Isaac Romer and his teacher Dr. Greg Borchardt presented their story of researching PFC Ernest A. Tanksley, 90th Infantry Division.  The soldiers are referred to by the students as their "Silent Hero's"
Here are following names and websites to the "Silent Hero's of the 90th Division"
 Each of the students and teachers who have participated in this program needs to be commended.  As you read through these, a lot of time and effort had been expended by them.